Leader in PMS software solutions for independent hotels and resort groups provides key reasons why hoteliers are embracing the trend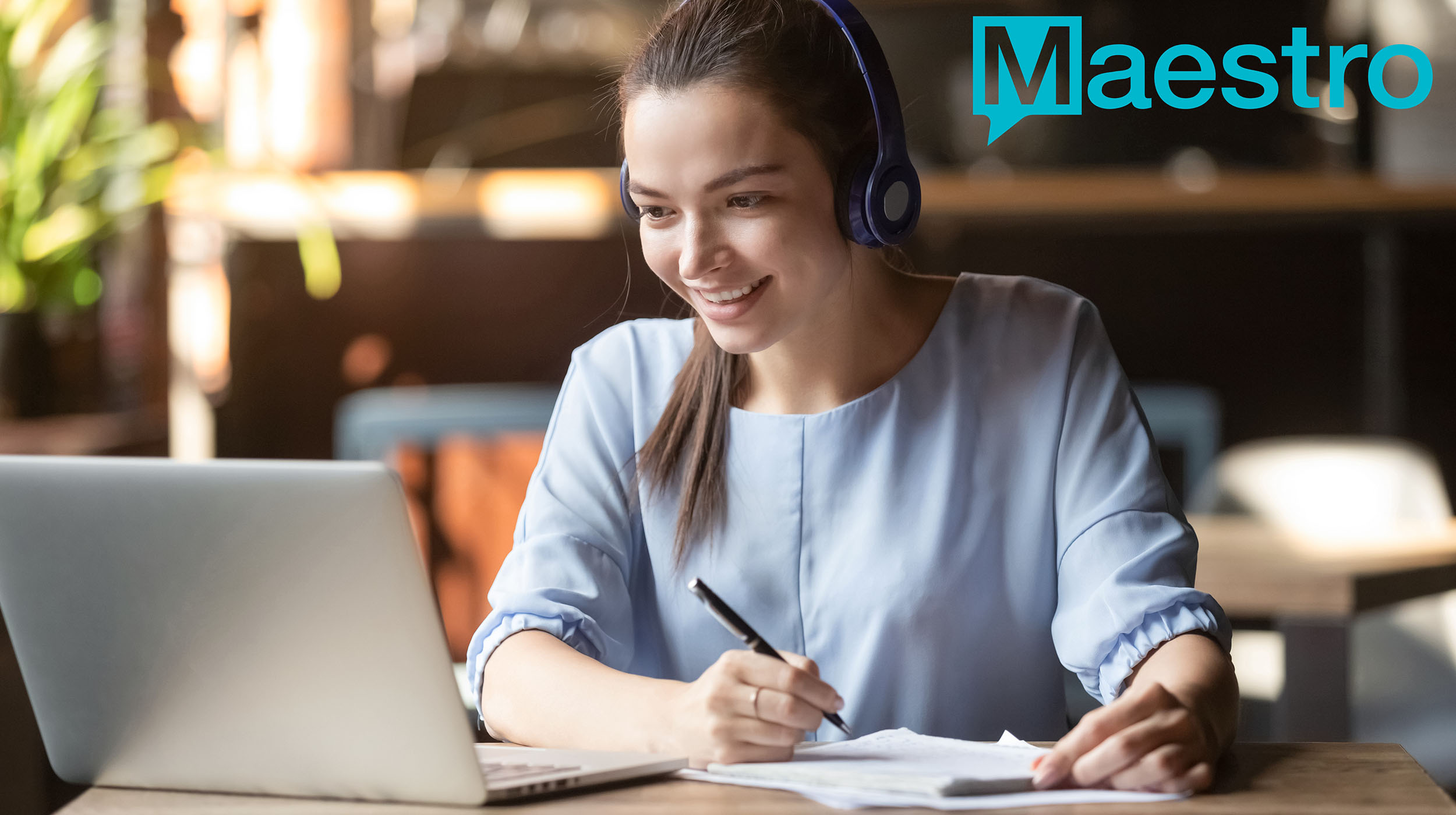 Markham, Ontario, July 27, 2021 — Hospitality will always be defined by the interactions between frontline associates and hotel guests, which is why face-to-face training and onboarding has always been favored by the industry. Today, as the nation begins down the long road of recovery left from the COVID-19 pandemic, communication between guests and hotels, and even between hotels and employees, has changed. And, many hotel managers are embracing the strengths of remote training alongside what their workers are re-learning in person.
"Conventional wisdom held that if leaders wanted to reach certain goals or instill specific value in hotel workers they would have to do so in person, just as the business is conducted each day," said Maestro President Warren Dehan. "Flash forward to 2020, the hospitality industry was turned on its head. We were accustomed to providing our services on-site and there were hesitations within our teams and clients who were not in favor of delivering the initial orientation, training and go-live remotely. However, given the travel and health challenges of the pandemic, it was time to adjust and provide a collaborative environment to both maintain the sense of relationship building that is a key part of the on-site implementation process, as well as provide remote training in a way that made sense to hoteliers. As a technology vendor it's important that we adapt and support the implementation needs of our clients to help them thrive as they return to, and exceed, pre-pandemic activity."
As the preferred cloud hosted and on-premises single source integrated PMS solution for independent hotels, luxury resorts, conference centers, vacation rentals, and multi-property groups, Maestro cites five ways remote on boarding as well as remote refresher training can be an asset to your hotel:
Training for Anyone, Anywhere
Communication will always be a challenge in an ever-shifting environment such as hospitality, and sometimes important changes need to be made quickly and information must be shared even quicker. The pandemic saw the most extreme case of this, with hotels having to constantly and swiftly alter operations based on CDC guidelines. Plexiglass barriers, mask requirements, and more had to efficiently roll out across the industry while enforcing social distancing.
During this period, employees in dire need of clarification and up-to-date communications were unable to physically meet on property. Remote training tools became valuable for workers who were in the process of making sweeping changes to their property. This technology will remain relevant during periods of significant change for hotels, such as those going through a rebrand, enacting new standards, or preparing for a natural disaster.
Reducing Travel Costs
Even in a world where safe travel is possible, travel for the sake of training can often be a significant investment for hotel operators. Remote training absorbs many of the travel costs and time lost during in-person training events and mitigates the liability of travel disruption. Most of all, the immediacy of these learning tools allows operators to learn new skills without stepping away from their roles entirely or properties during periods of high volume.
For this to be effective, training providers must change the way they organize classrooms for digital learning. Altered class structures, shorter teaching periods, and an emphasis on visual content are just some of the ways digital training differs from in-person lessons. These alterations are made with the goal of allowing students to learn at their own pace, without unnecessary external pressures.
Reinforcing In-Person Training
The trend toward remote learning is taking place just as corporate culture is experiencing a clash of ideas as employees who value remote work combat calls to return to the office. In many ways the comfort of one's home can increase productivity and can even help with the retention of new ideas, showing value in creating portable lessons for workers to dial into at their own pace.
Remote learning also allows management to update large groups of workers, such as entire departments, on small operational changes prior to their arrival on property. Digital training tools are often accessed using guest devices, making them easier to reference than hard copies, helping with long-term retention of information.
Improving In-Person Meetings
It is important for hoteliers to look at new technology as a potential tool for improving existing processes as much as they are for eliminating unnecessary ones. For example, at some point during in-person meetings it is inevitable a video is introduced as a training tool. While this is an important part of the training experience, it is also disruptive to the flow of training.
Instructional videos are often best sent to employee devices for remote viewing. This way, workers can maximize the effectiveness of hands-on training while having something to reinforce what they learned waiting for them later. Just as hotels work to keep guests present and in the moment while on property, so should training be used as efficiently as possible while key people are physically present to take advantage of it.
Speeding the Onboarding Process
Time, like labor, is in short supply. That is why hoteliers need to consider any tools at their disposal to assist with the onboarding process for new team members. While on-site meetings are traditional for the first day of training, remote curriculums are invaluable for helping new hires absorb information.
Remote training will be particularly effective for employees returning to the floor after an extended period of social distancing. Remote learning tools can help these workers get back into their zone of genius faster than otherwise. This way, hotels can focus on operating at the top of their form without neglecting the training of their newest workers.
To learn more about the Maestro PMS approach to on boarding your new property management software solution, or for a variety of tools to help you through technology evaluations, please, visit www.maestropms.com to download a series of tools to assist you.
About Maestro
Maestro is the preferred Web Browser based cloud and on-premises PMS solution for independent hotels, luxury resorts, conference centers, vacation rentals, and multi-property groups. Maestro's PCI certified and EMV ready enterprise system offers a Web browser version (or Windows) complete with 20+ integrated modules on a single database, including mobile and contactless apps to support a digitalized guest journey as well as staff operations. Maestro's sophisticated solutions empower operators to increase profitability, drive direct bookings, centralize operations, and engage guests with a personalized experience from booking to check out and everything in between. For over 40 years Maestro's Diamond Plus Service has provided unparalleled 24/7 North American based
support and education services to keep hospitality groups productive and competitive. Click here for more information on Maestro. Click here to get your free PMS Buying guide.
Contact:
Maestro PMS
Macarena Lorenzini
65 Allstate Parkway, Suite 100
Markham, ON L3R 9X1
Canada
Toll Free: 1-888-667-8488
Email: info@maestropms.com
www.maestropms.com