Benchmark Hospitality's Cutting Edge Hosted Applications, Led by Maestro PMS, Put Technology in Service to Profitability, Staff Productivity, and Guest Service
Markham, ON – February 16, 2011 Many hotel companies talk about the advantages of cloud computing. Benchmark Hospitality International is implementing it. Benchmark operates 30 award-winning hotels, resorts, and conference centers coast to coast and off shore. It launched its virtual system platform strategy in 4Q 2010 to increase ROI for its propertys' owners, create greater property operating efficiency, and deliver better service to guests.
"The goal of our virtual system plan is to use cloud computing to improve ROI for our owners," said Darrin R. Pinkham, CHTP, vice president, information technology for Benchmark Hospitality International. "NORTHWIND's Maestro Front Office resort hotel software is a big part of our strategy. The system has cutting edge cloud capabilities and NORTHWIND partnered with us to deliver flexible functionality."
Pinkham explained Benchmark's goal is to provide current and new-build owners with a turnkey technology solution-set that includes software support and hardware provided by Benchmark which its properties can rent. "This lowers capital outlay and drives a better ROI. There is no additional cost to owners and we shoulder responsibility for data security and PCI compliance." Benchmark utilizes a best-of-breed vendor strategy. The company implements systems and providers that have proven reliability and a forward-looking development plan.
"We can implement a Maestro Front Office System and establish interfaces to call accounting, POS, in-room entertainment, and other systems quickly," Pinkham said. "We have a hardened interface data box on property that converts serial system transactions to IP format for posting in Maestro." Pinkham noted property data travels through a secure cloud tunnel and the process is standardized so all properties are on the same version of the Maestro system. An added advantage of cloud systems is that staff can move between properties and be able to use the PMS. A large number of independent operators utilize Maestro's scalable corporate-centric financials and management controls to oversee a property or chain from one workstation.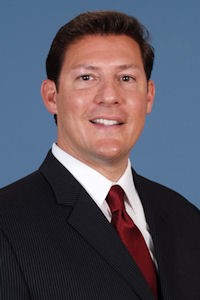 Darrin R. Pinkham, CHTP, vice president, information technology for Benchmark Hospitality International
"Property-based servers are waste of money that our owners should not have to finance," Pinkham said. "By outsourcing our systems to trusted tech partners like NORTHWIND, we can focus on running a four-star hospitality operation and leave the system management to them." Benchmark utilizes the services of SunGard, a secure hosting facility in Richardson, Texas.
Benchmark Hospitality is also going to the cloud for its guest phone systems. "We are in the process of replacing many of the older telephone systems with hosted VoIP solutions that can utilize our existing phone investments. We will be replacing our video-on-demand guest movie solutions with hosted free-to-guest channels, HD, and digital music selections, as well."
System training also comes from the cloud for Benchmark property staff. "Another way to increase profitability is to have our staff receive training online," Pinkham said. "Maestro has an excellent online support and training program that includes video classes for new hires as well as refresher courses and one-o250n-one personalized classes that keep our property teams operating more efficiently. A well trained staff is more confident of their abilities and able to focus their attention on guests and service."
Benchmark's goal in moving its systems to a virtual cloud platform is to maintain the profitability of our propertys' owners and earn their confidence in our technology expertise," Pinkham said. "When we put technology in service to profitability, staff productivity, and guests, everyone wins."
For a demo of the Maestro Property Management Suite featuring the ResWave Booking Engine, please contact the NORTHWIND-Maestro team at 1.888.667.8488 or email info@maestropms.com
Maestro Property Management Solution
Enhance guest service, improve efficiency and maximize online and offline revenue with Maestro PMS, the industry's most robust and flexible resort software and boutique hotel software solution empowering leading full-service hotels, luxury resorts, multi-property groups, conference centers, condominiums and timeshare properties. Solutions include Front Office (PMS), Accounts Receivable, Analytics and Business Intelligence, Sales and Catering, Multi-Property Management, Condo & Timeshare Owner Management with Web Functionality, Spa and Activities, Web Booking Engine, Real-Time Yield Management, Dynamic Packaging Golf, CRM, Guest Experience Measurement, CRO, GDS Two-Way XML Connectivity or Integration, Membership, Work Orders, Fine Dining and Retail POS, Online Table Reservations with Web Booking, Concierge and Guest Experience Measurement. The Maestro PMS is database independent (ODBC Compliant) and may be deployed via Windows, UNIX, Linux, Terminal Services, hosted and Web platforms.