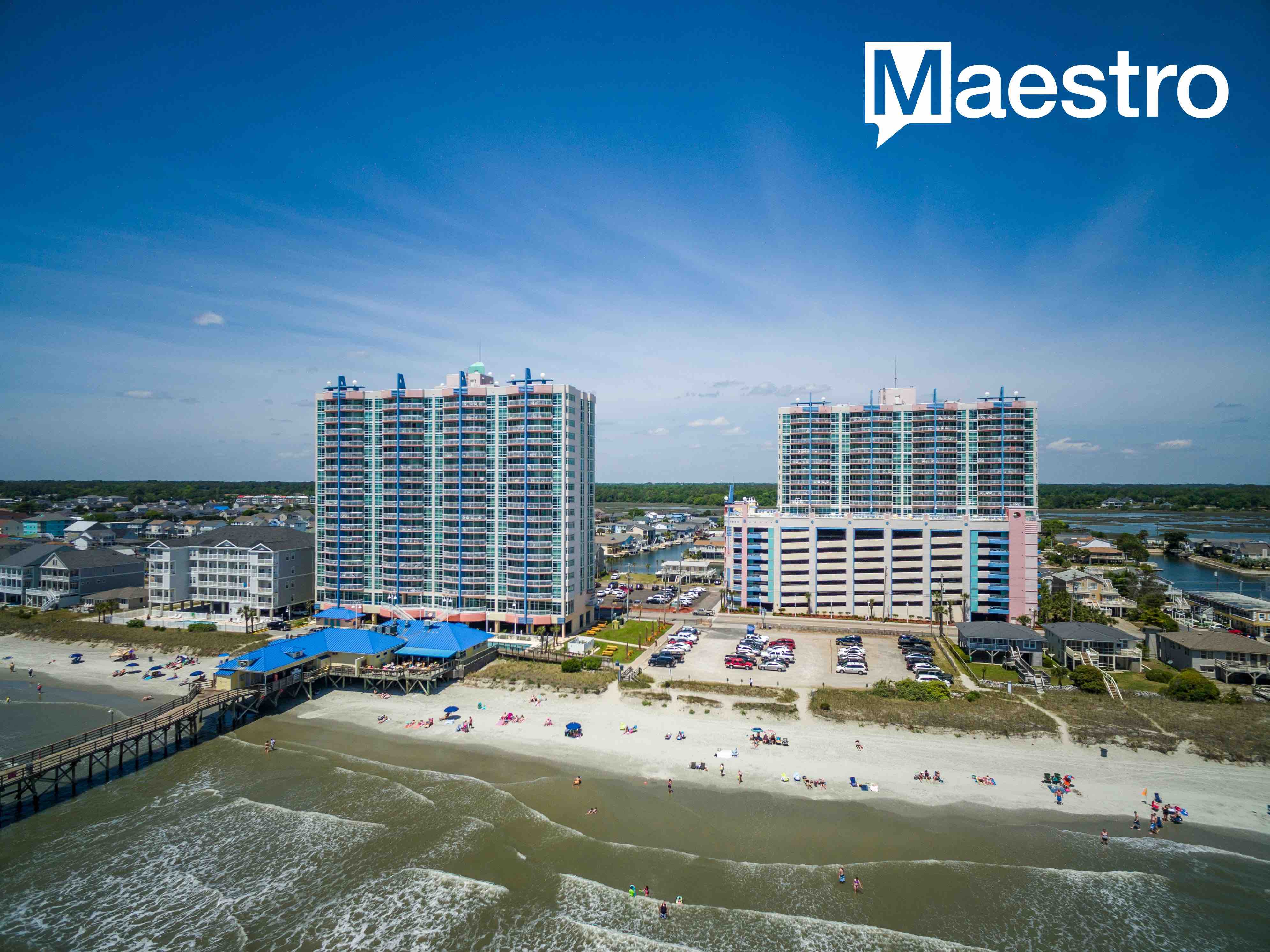 Maestro Balances Revenue Management with High Occupancy to Drive Success for Multi-Property Resort Company
October 16, 2019 – "For a large, multi-property destination that combines condo ownership units and hotels, optimizing revenue, loyalty, and occupancy while serving its owners is a big job. Maestro PMS hotel software manages all our properties and maximizes revenue on one centralized system," said Helen Staton, Director of Reservations and Revenue Management for Myrtle Beach Seaside Resorts.
Myrtle Beach Seaside Resorts' Seven Properties use Maestro's Multi-Property Integrated Software Suite in a hybrid Windows and Browser deployment on their own self-hosted servers. Property modules used are:
Front Desk and Reservations
Condo Owner Management
Sales and Catering
ResWave direct online booking engine
Analytics Business Intelligence Data Mining
Loyalty Engine
Yield and Rate Management, and
Guest Experience Measurement (GEM) online guest sentiment tracking.
One Powerful Multi-Property Management Platform Manages Seven Destination Resorts
On South Carolina's coast Myrtle Beach Seaside Resorts operates full-service oceanfront hotels with standard hotel rooms, and spacious one, two and three-bedroom condominiums. "Maestro Multi-Property is a powerful, full-featured system that is ideal for us because it supports our diverse operation that includes resort guest operations and condo ownership management accounting on one platform," said Staton. "With one system for all our properties our staff can move where they are needed and be productive immediately. Plus, if one property is sold out, we can easily see availability at our other nearby hotels for an instant cross sell that benefits guests and keeps them with our chain."
Yield Management Optimizes Rates Across All Properties and Booking Channels
Besides managing its properties, Myrtle Beach Seaside Resorts uses Maestro Yield Management to optimize revenue. "We create optimized rates across dozens of room types and multiple seasons," Staton said. "Rates are uniform in Maestro for our reservations staff and also across online booking channels. We also use Maestro's ResWave direct online booking engine which makes it easy for guests to book with us and reduces our third-party booking fees."
Vacation Rental Condo Management for Online Unit Owner Access
The Maestro Condo Owner Management utilizes the same single-image database as Maestro's other modules. Condo Owner Management lets Myrtle Beach Seaside Resorts' owners securely go online to access their maintenance schedule, statements and financials, see their unit reservation activity, and also enables them to make their own unit bookings through the portal.
Maestro Analytics BI for Real-time Performance Tracking, Data Mining for Targeted Marketing Campaigns
Maestro also provides powerful multi-property data analysis tools for Myrtle Beach Seaside Resorts' management team. Maestro Analytics business intelligence collects property performance metrics and guest data that lets Myrtle Beach Seaside Resorts' managers understand and leverage demand trends and market to its guests more effectively. "Maestro Analytics business intelligence is an awesome platform I use every day," Staton said. "Analytics lets me create custom reports that track current forecast accuracy and performance compared to the same day last year. This allows us to continuously optimize rates and occupancy based on real-time data. We also use Analytics data for guest stay amenity and date preferences. Analytics creates reports that show which guests like fishing, or golf, or that stay with us at Thanksgiving. We use this information to create highly effective, targeted marketing campaigns for individual guests based on their specific preferences."
Group Landing Pages for Personalized and Simplified Group Block Control
"We host many groups and Maestro makes this easy," Staton said. "The system lets us create individual online group landing pages. This lets group leaders easily monitor their group member pick-up and track reservations for their activity." This together with the rooming list upload features allow for seamless group management in Maestro, and full integration with the front desk module for single guest itinerary real time updates for groups.
Keeping Early Arriving Guests on Property to use Amenities & Spending in Outlets
An added convenience for Myrtle Beach Seaside Resorts' guests is Maestro's SMS Texting module that lets property staff automatically notify housekeeping for a priority room clean as well as update guests when their room is ready. This allows guests to be checked into their reservation in order to enjoy on property amenities with full charge posting privileges to their folio while waiting for their room. The module also enables staff to inform guests and groups about resort activities, changes to events and more in real-time.
GEM Captures Guest Experiences for Property Action and Response
"We also use Maestro's Guest Experience Measurement (GEM) system. GEM is an online comment card that captures guest sentiments to inform us how we handled their stay and how we can do better in the future," Staton said. "GEM responses benefit every guests' stay because it gives them a chance to talk about their experience." For positive reviews, GEM lets properties easily share their valuable guest responses online if a guest gives permission
"Maestro is an excellent partner for Myrtle Beach Seaside Resorts," Staton said. "Their systems continuously evolve with the most advanced technology so we keep current with the latest advances guest want. We will evaluate Maestro Mobile Check-In and digital signature capture in the near future. We expect this will let us provide better, more personal service in our lobbies and capture more guest data at check-in. I would recommend Maestro PMS for any independent operator."