Hotels, resorts, and conference centers can now push/pull room availability, rates, and pick-up revenue from the popular Tripleseat sales-and-catering platform into the leading Maestro property-management system, ensuring clean data in real time and better guest room control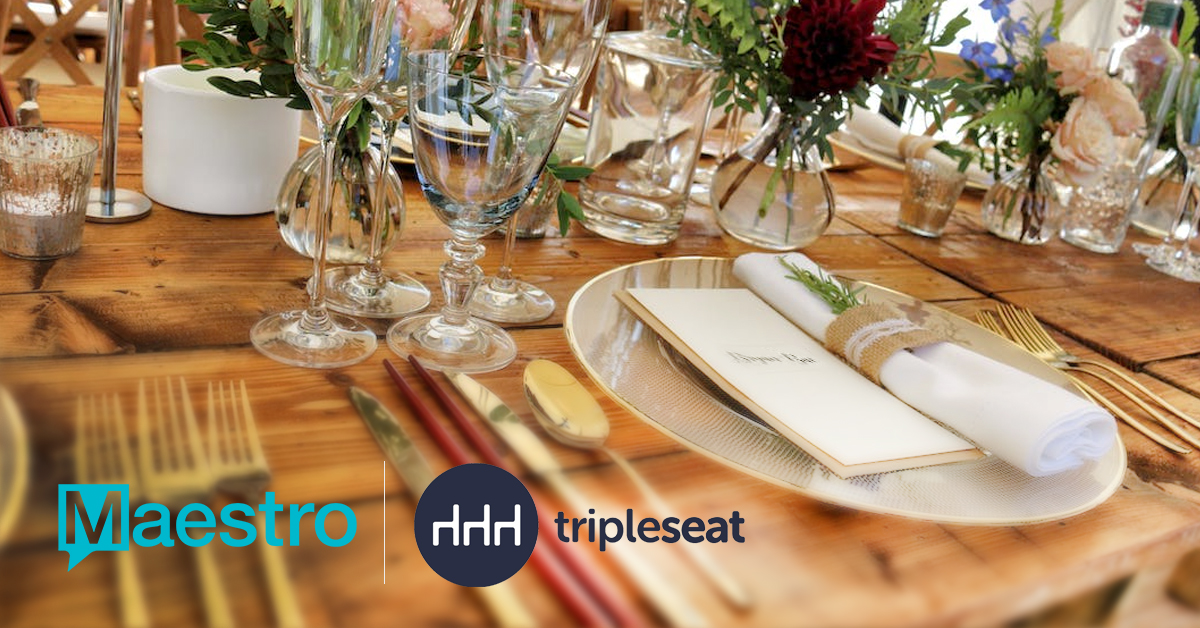 MARKHAM, ONTARIO, APRIL 4, 2023 — The meetings and events industry is experiencing an unprecedented recovery, and all signs point to a busy 2023, according to the American Express 2023 Global Meetings and Events Forecast. To ensure frictionless execution of group bookings from reservations to checkout, Maestro PMS has formed an integration partnership with web-based sales and event management platform Tripleseat.

Together these technology providers are streamlining event data and pulling group room block information — including room types, rates and allocations — from the Tripleseat sales-and-catering system and pushing it into Maestro PMS. This automated process ensures that clean data is available to sales-and-catering teams in real time, eliminating headaches for meeting planners and greatly improving the stay experiences of event attendees.

"The Maestro/Tripleseat integration partnership was formed at the request of our mutual customers," said Warren Dehan, Maestro President. "Together, we are enabling group sales and catering teams to book, manage, and plan guest room blocks and share that information with Maestro PMS for fast and accurate booking and billing. Not only does Tripleseat push the name of room block details, but it enables operators to better forecast inventory and revenue. There are a lot of moving pieces when it comes to event management. Tripleseat and Maestro PMS are streamlining communication to prevent operational disasters like overbooking from ever happening."

Features of the Maestro PMS and Tripleseat integration include:


Room inventory is sent from Maestro PMS to Tripleseat once a day for the next 365 days.


Guest room block from Tripleseat to Maestro: Once the guest room block is created in Tripleseat, the room block details will go into Maestro in real time and create the group in Maestro. In addition to rates and room types, information sent to the PMS will include the following: block release date, booking name, room block name, account and contact, and booking notes.


Guest room block pickup from Maestro to Tripleseat: When a room is picked up in Maestro, it will update the pickup count in Tripleseat and on the hotel, resort, or conference center's guest portal. Occupancy will be reflected in pickup counts. Pickup updates occur in real time.

"Hotel management is a complex business. We are thrilled to partner with Maestro PMS, streamlining group booking and events management and reduce the room for error by teams working in silos," said Jonathan Morse, CEO of Tripleseat. "Our mutual clients requested this integration, and we are always happy to help make their job easier."

As hotel operators work towards closing the labor gap, integration partnerships like Maestro PMS and Tripleseat are enabling operators to work smarter, not harder. This joint solution not only ensures that no event details or revenues slip through the cracks, but it greatly improves the event experience for planners and attendees alike. The smoother the stay, the more likely group business will return.

"We are delighted to be working with Tripleseat to lessen the stress placed on today's operators and planners," Dehan said. "Together we are working towards increasing sales and positive online reviews without increasing a hotel's workload. The Global Meetings and Events Forecast shows 'in-person meetings are roaring back in 2023 and have already surpassed 2019 levels' across North America. While attendees want to see each other in person after suffering from virtual fatigue, the costs to support these guests continue to rise due to higher labor, food, and other fixed costs, not to mention the impact of inflation. We as hotel technologists must continue to work together to create ways to offset workload for staff, streamline operations, and ultimately exceed the expectations of guests."


About Tripleseat
Tripleseat is a sales and event management platform used by 15,000+ restaurants, hotels, and unique venues. The Tripleseat Hotels platform enables group sales and catering teams to drive leads, book, manage, and plan events from guest room blocks to banquet space and every detail in between. Our features, paired with software partner integrations, make Tripleseat the leading software for today's modern hotel. To learn more about group bookings with Tripleseat Hotels or to schedule a demo, please visit tripleseat.com/products/hotels.
About Maestro
Maestro is the preferred Web Browser based cloud and on-premises PMS solution for independent hotels, luxury resorts, conference centers, vacation rentals, and multi-property groups. Maestro's PCI certified and EMV ready enterprise system offers a Web browser version (or Windows) complete with 20+ integrated modules on a single database, including mobile and contactless apps to support a digitalized guest journey as well as staff operations. Maestro's sophisticated solutions empower operators to increase profitability, drive direct bookings, centralize operations, and engage guests with a personalized experience from booking to check out and everything in between. For over 40 years Maestro's Diamond Plus Service has provided unparalleled 24/7 North American based support and education services to keep hospitality groups productive and competitive. Click here for more information on Maestro. Click here to get your free PMS Buying guide.
Media Contacts
Barb Worcester, PRPro
barbw@prproconsulting.com
Macarena Lorenzini, Maestro PMS
info@maestropms.com
Maestro PMS
65 Allstate Parkway, Suite 100
Markham, ON L3R 9X1
Canada
1-888-667-8488
info@maestropms.com
www.maestropms.com