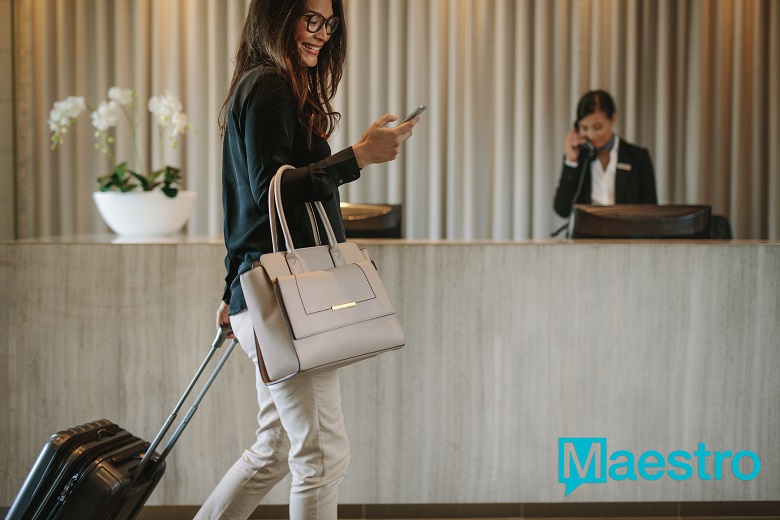 At HITEC: Come Experience the Digital Guest Journey with Maestro PMS' Mobile Innovations for Sophisticated Operations, Personalized Services
Booth 1614: Go Beyond Mobile Check-in/Check-out to Power Your Guests' Engagement at Each Property Touch Point, All In the Palm of Your Hand
June 13, 2019 – HITEC 2019 is focused on vendors selling technology, Maestro PMS goes beyond technology and provides complete solutions. Today's hoteliers know guests want more than a room. They want recognition, personalization, self-serve capabilities and mobile engagement. They want a memorable experience. Maestro brings it all together with a real-time online booking engine fully integrated into its PMS and complemented with guest recognition and preference tracking at every property touch point. This includes mobile check in and check out, mobile access, mobile front desk digital signature capture, and guest data collection, guest and group text communications, online management, mobile housekeeping, and an online guest loyalty portal.
Come visit Maestro at HITEC booth 1614 in Minneapolis June 17 – 20 to get a closer look at the wealth of options available to independent large scale and boutique hotels, luxury resorts, conference centers, vacation rentals, and multi-property groups. Learn about the customized and flexible deployment options unique to Maestro; feature-rich and identical Browser and Windows versions deployable in the cloud, on-premise or in your own data center. As the preferred cloud and on-premise PMS hotel software solution for over 40 years, Maestro continues to grow its base of discerning clients through a reputation for unparalleled hospitality solutions.
"Maestro is in business to provide system solutions that power our clients' operational success," said Warren Dehan, Maestro PMS President. "To us that means listening and giving our clients a voice, staying ahead of market trends and developing the innovations and services to help them stay competitive. We are continually expanding our development and service teams to meet client demands for mobile and emerging innovations. All our clients are able to take advantage of these new capabilities as an integral feature of Maestro. We also pride ourselves on maintaining independence from industry changing platforms to ensure continuity and longevity within our 20+ hotel software modules, to protecting our clients from technology obsolescence and being able to adapt to new technologies rapidly."
At HITEC Maestro will demonstrate its robust digital guest journey capabilities that operators leverage to maximize guest engagement opportunities. This will include ResWave, Maestro's proprietary online booking engine with a responsive design platform, complete with spa, activities and amenity bookings. Visitors will also be able to experience guest self-serve check-in, check-out and everything in between, including Mobile and tablet check-in and check-out, guest folio display, signature capture, and guest/group text communications. All are part of the Maestro mobility solution.
Dehan said the capabilities are evolving exponentially. In addition to the widely deployed mobile Browser version of Maestro, work is progressing on a tablet user interface version of Maestro for Q4 2019, which will be available as a standard offering to complement its Windows and Browsers versions.
Maestro also offers users a collection of open APIs (application programming interface) that offer third-party mobile vendors secure interface capabilities with Maestro PMS. "We work hard to provide the simplest, most economical way for clients to link the third-party mobile systems they want with Maestro," Dehan said. "This enables our clients to add a myriad of third-party systems including mobile tools like handheld concierge, mobile access key locks, and mobile spa, activity and dinner booking. Maestro offers hundreds of interface options so our client community can use the systems they feel are best for their unique operations with few limitations."
Maestro provides 24/7 North American-based call center support, On-Demand One-on-One Live Training, in application Live Chat, built-in Self-Help Tutorials and Quick Reference Guides, Live Webcasts and Training Videos to help hotel management and staff self-serve and use the system productively, while the Maestro professional services team is at their beck and call.
The Maestro Property Management System delivers flexible and scalable deployment options with an identical full-featured web browser or windows solution available in the cloud or on premise. Maestro's revenue-generating hotel software tools and services increase profitability, drive direct bookings, centralize operations and provide personalized and mobile guest service tools to enhance the guest experience. Click here for more information on how to engage and socialize with Maestro PMS.
About Maestro PMS
Maestro is the preferred cloud and on-premises PMS solution for independent hotels, luxury resorts, conference centers, vacation rentals, and multi-property groups. Maestro's PCI certified and EMV ready enterprise system offers 20+ integrated modules on a single database including web and mobile apps to increase profitability, drive direct bookings, centralize operations, and enable operators to engage guests with a personalized experience. For over 40 years Maestro's Diamond Plus Service has provided unparalleled 24/7 North American based support and education services to keep hospitality groups operational and productive. Click here for more information on Maestro.
Contact:
Maestro PMS
Macarena Lorenzini
65 Allstate Parkway, Suite 100
Markham, ON L3R 9X1
Canada
Toll Free: 1-888-667-8488
Email: info@maestropms.com
Media Contact
Julie Keyser-Squires, APR
Softscribe Inc.
609 SW 8th Street, Ste 600
Bentonville, AR 72712
Phone: 404-256-5512
Email: Julie(at)softscribeinc.com