Experience hospitality's unique property-management system that gives hoteliers the 'Power to Choose' how its deployed at CYBER HITEC; Join Maestro's Exhibitor Tutorial Session titled 'Cloud-Hosted, On-Premise, Self-Hosted & Private-Cloud PMS; All Platforms Have Advantages, Which Is Right For You?' on Thursday, Oct. 27, at 1:00 p.m.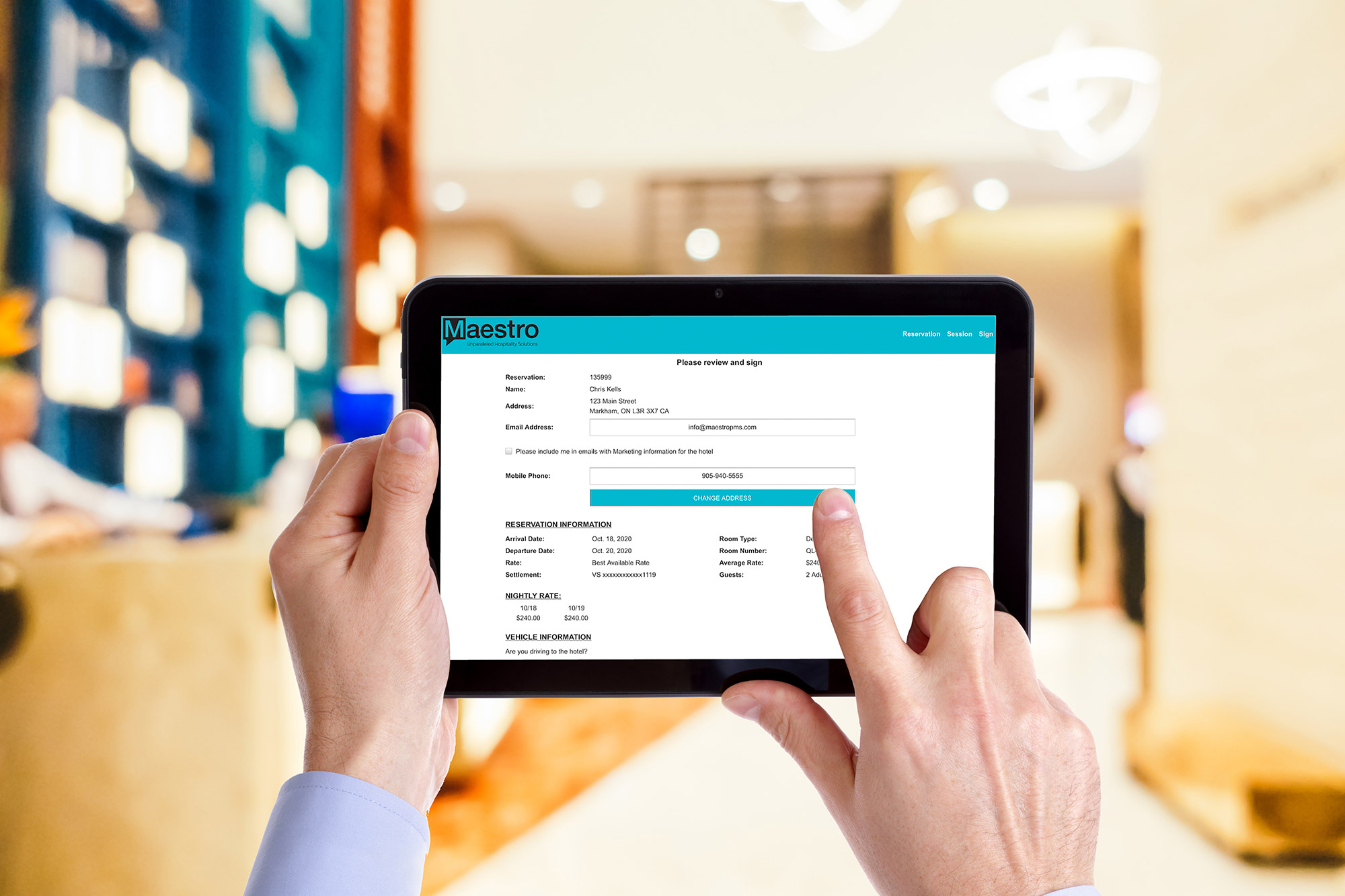 MARKHAM, Ontario – Next week Maestro will reveal an expansion to its popular property-management system solutions that can be deployed in any environment — Cloud, On-Premise, Self-Hosted, Private Cloud — giving hoteliers absolute freedom of choice. At CYBER HITEC, organized by HFTP and held LIVE October 27 to 29, hoteliers will see the latest tablet and mobile applications that are enhancing the guest journey and staff operations for Maestro's discerning clients. They will also get a sneak peak of the upcoming latest version of this industry leading PMS that is designed specifically for independent hotels, luxury resorts, conference centers, vacation rentals, and multi-property groups.
In addition to Maestro's existing Windows and Web Browser versions, the new tablet-based version was developed from the ground up as a frontline user-focused native tablet application that leverages responsive design for use on any mobile or desktop device. Maestro can now be deployed in any combination of Windows, Browser, and Tablet — and in a wide choice of platforms — while providing a centralized and cohesive view of the guest from check in to check out and everything in between.
"Our clients spoke, and we listened," said Warren Dehan, Maestro President. "They expressed how much they rely on the sophisticated capabilities of Maestro PMS but wanted something toned down with less options for their frontlines; an almost 'no training required' version so to speak. Therefore, we soon will be unveiling a newly designed Tablet UI for Maestro that is extremely intuitive to navigate so adoption by users will be swift. The frontline workers using the mobile device will only need a small portion of Maestro's capability for everyday tasks — such as curbside or lobby check-in/out, spa intake, digital signature capture etc. — so we scaled back the functionality to make it more streamlined without the extra features that typically only back-of-the-house teams and managers need to use."
"With virtually no training required and easy uptake being a key goal of our Tablet UI initiative, we are addressing the recent needs of hoteliers as well," Dehan said. "Let's face it … the turnover rate of front-line staff, especially with new safety requirements and people stepping into new roles or wearing more hats, may be higher than normal. So, we needed to ensure that training on this device is effortless and requires minimal management intervention to get users (who may be new hires or seasonal workers) up to speed quickly. Due to the familiarity most people have with tablets and mobile devices, and because we designed Maestro Tablet specifically for this medium, users can hit the ground running in a very short time."
Power to Choose
Giving operators a choice in how they deploy Maestro is all part of the company's "Power to Choose" philosophy.
It begins with giving operators a say in which platform is best for their property: self-hosted, private cloud, on-premise (all which offer the options of Windows based, Web browser based, or a hybrid of both) or a cloud-hosted solution featuring Web browser access deployed in a dedicated environment. Choice also comes with the option to choose which UI brings people into the system. Back office staff may choose to access Maestro via Windows, while managers can opt to access the PMS via the Web and front office staff may leverage the mobile flexibility of the tablet. No matter how a hotel group chooses to deploy Maestro, everyone shares the same central database and can take an a la carte approach to use any of the mobile and contactless apps that suit the property's guest experience goals.
Maestro's "Power to Choose" offering also extends to guests, giving them a choice in how they prefer to engage with the hotel or staff. For contactless service, guests can self-serve from their phone via the solution's mobile pre-registration and pre-payment portal. A digital reg card with guest interactive updates is also available, along with interfaces to the most popular mobile key applications, kiosk / iPad self check-in solutions, SMS/text messaging apps, mobile express check-out, and more.
Maestro continues to improve its 43-year service reputation and enhance its Diamond Plus Service offering with popular features including embedded in-application live chat for instant help in Maestro, 24/7 live call center, a significantly enhanced eLearning website and more. Maestro also gives hoteliers a choice of 20+ integrated modules to help build their centralized system for a flexible and customized approach. The modules include: Front Office, Sales & Catering, Spa & Activities, Owner & Member Management, enhanced Web Booking Engine with Owner & Member Portals as well as Spa & Activity Booking, Guest Engagement Management, Mobile Operations & Guest Apps, Guest Experience Measurement and more. These integrated solutions and mobile web apps support a touchless guest experience, reducing the need for physical contact between staff and guests.
"Maestro has spent years developing an extensive collection of APIs' with more than 600 partner integrations to offer hoteliers choices in how they meet the discerning needs of today's modern travelers," Dehan said. "Our online and proprietary mobile web apps are strong, but together with our integration partners, we are giving hotel operators more power to meet guests' demands for contactless engagement."
"We're proud of the extensive work we have done in 2020 in regard to API enhancement, and more and more third-party vendors are seeking to develop joint technology solutions," he said. "Their hotel customers are also leveraging Maestro in exciting new ways, from checking guests in and out and applying payments against folios to deploying concierge services and supporting upselling capabilities. It's for these reasons that large and small independent hotel groups are embedding Maestro capabilities into their websites and adding our functionality into their booking engines. It's a very exciting time to be a Maestro customer, and conversely, we are very excited for our clients as we work diligently to bring them new and innovative solutions."
For more information on Maestro PMS, visit maestropms.com.
The Maestro Property Management System delivers flexible and scalable deployment options with an identical full-featured web browser or windows solution available which is hosted in the cloud or on premise to offer the best of both worlds. Maestro's hotel management software applications and services centralize operations and provide personalized and touchless mobile guest service tools to enhance the guest experience while also supporting a more secure stay. In addition to implementing Maestro's flexible PMS platform and multiple modules, the resort will also use Maestro's Condo Owner Management to offer owners secure online access to their statements, reservation activity, and to book their own units.
About Maestro PMS
Maestro is the preferred cloud and on-premises PMS solution for independent hotels, luxury resorts, conference centers, vacation rentals, and multi-property groups. Maestro's PCI certified and EMV ready enterprise system offers 20+ integrated modules on a single database including web and mobile apps to increase profitability, drive direct bookings, centralize operations, and enable operators to engage guests with a personalized experience. For over 40 years Maestro's Diamond Plus Service has provided unparalleled 24/7 North American based support and education services to keep hospitality groups operational and productive. Click here for more information on Maestro. Click here to get your free PMS Buying guide.
Contact:
Maestro PMS
Macarena Lorenzini
65 Allstate Parkway, Suite 100
Markham, ON L3R 9X1
Canada
Toll Free: 1-888-667-8488
Email: info@maestropms.com
www.maestropms.com