Maestro Helps Operators Get Back to Business as Overall Client Online Booking Trends Up over 2019 – 21% Average Increase for the Past 60 Days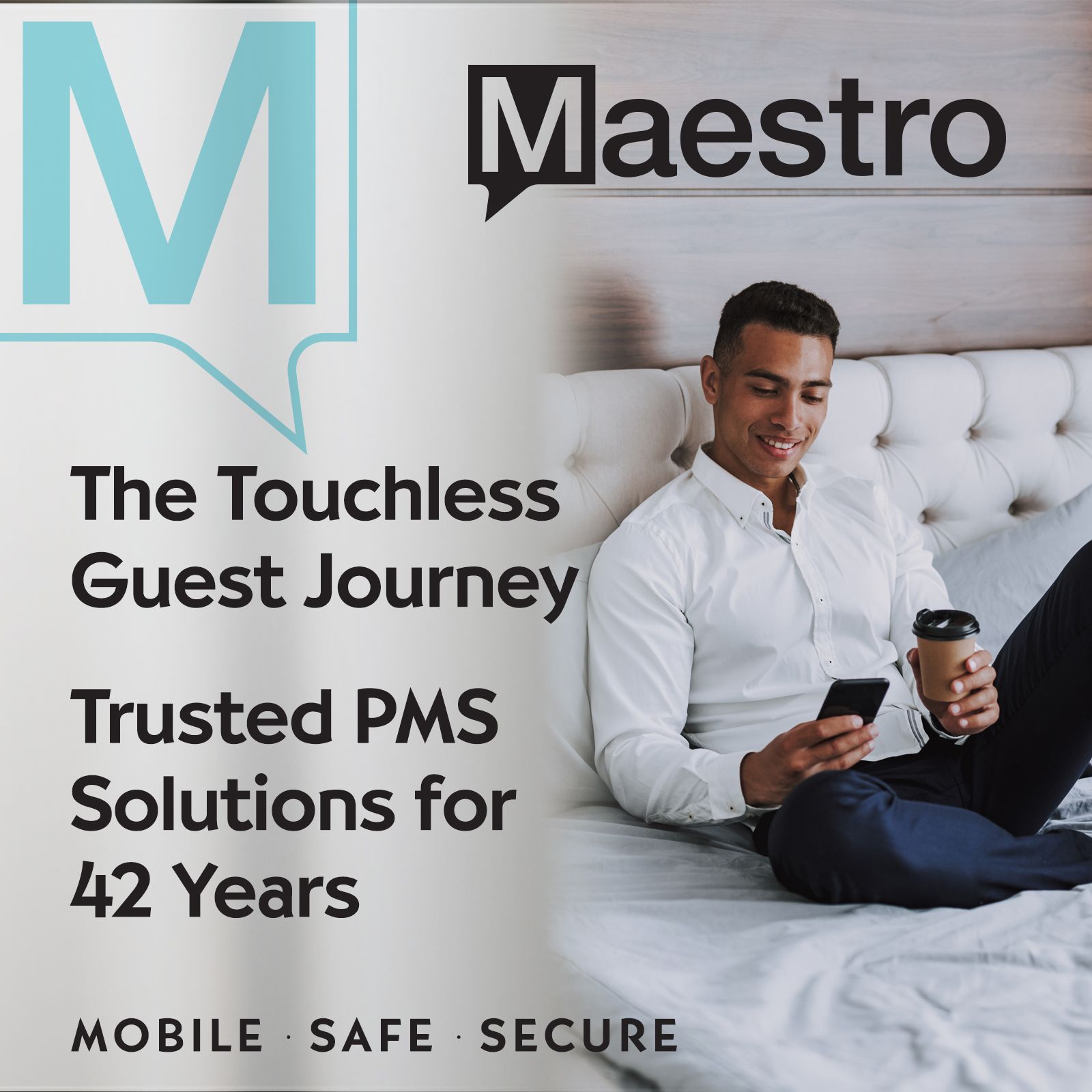 June 16, 2020 – Hospitality solutions provider Maestro PMS reported a 21-percent increase in online reservations from June 8th to 15th, 2020 over the same period in 2019 from multiple independent properties. The metrics represent an average increase based on reservations for the last several weeks from hundreds of properties that use Maestro's ResWave web booking engine compared to the same period last year. Maestro PMS is the preferred cloud and on-premises PMS solution for independent hotels, luxury resorts, conference centers, vacation rentals, and multi-property groups.
"Our industry's current challenges are still evolving, but Maestro recorded a clear increase in late May and June reservations with many of our clients," said Warren Dehan, Maestro PMS President. "The aggregate property reservation count booked through ResWave shows the last week from June 8th at 21% higher than the same week last year. This is great news." Dehan noted that Maestro is sensitive to the new normal for property operations and guest service. "We are offering client education webinars to increase awareness of how to use Maestro's mobile and touchless tools to provide a safer guest journey and comply with regional health guidelines."
Maestro Also Extends 2019 Users Conference attendance fee credit to the end of 2020
The Maestro's 2019 Users Conference held in Toronto had record attendance, with the next conference moved to 2021 giving operators time to plan for travel. "We provide our Users Conference effectively at no cost. We credit the value of each property's attendance fee back to users in the form of professional training services," Dehan said. "Attendees can select either on-property or online training, whichever is most convenient for them. Due to many client properties being temporarily closed or operating with reduced staff, attendees may now defer their Users Conference fee credit until year end. "Many client properties were closed or short staffed due to the slowdown, and we are seeing a surge in requests for re-opening training services. To aid in this effort and absorb some of the costs, we chose to extend the credit redemption until year end to support their businesses and help them get back to running normally."
"I don't know how Maestro could get any better with their Users Conferences. They really are perfect," said Helen Staton, Director of Reservations and Revenue Management, Myrtle Beach Seaside Resorts. "When you come to Maestro's Users Conference you learn a lot about the system's capabilities, even if you are a longtime Maestro user. You return to your property with so much more system knowledge."
Maestro stands strong to support clients
"We have received significant demand to assist clients in their reopening technology considerations and Maestro is continuously engaging with clients to coordinate property strategies for a more touchless guest experience," said Warren Dehan, Maestro PMS President. "We have created multiple options that help users deliver a more contact free guest experience." Maestro's mobile pre-check-in, online payment portal, digital signature capture and express mobile check-out, and streamline front office processes eliminate unnecessary points of physical guest contact. Maestro also offers integrations with multiple third-party tech providers that support a wealth of additional touchless operations such as mobile key, kiosks, SMS/text messaging and more.
"Deemed as an Essential Business by the government, Maestro has remained fully staffed and operational throughout the pandemic," Dehan said "The majority of the teams work from home offices to support clients and help them prepare to ramp up in the second half of the year. The leading indicators today look good. We are partners with our clients, and we continue to work diligently to do what is necessary to help everyone concerned manage through this challenging time. We are all in this together."
The Maestro Property Management System delivers flexible and scalable deployment options with an identical full-featured web browser or windows solution available hosted in the cloud or on premise to offer the best of both worlds. Maestro's hotel management software applications and services centralize operations and provide personalized and touchless mobile guest service tools to enhance the guest experience while also supporting a safer stay. In addition to implementing Maestro's flexible PMS platform and multiple modules, the resort will also use Maestro's Condo Owner Management to offer owners secure online access to their statements, reservation activity, and to book their own units.
About Maestro PMS
Maestro is the preferred cloud and on-premises PMS solution for independent hotels, luxury resorts, conference centers, vacation rentals, and multi-property groups. Maestro's PCI certified and EMV ready enterprise system offers 20+ integrated modules on a single database including web and mobile apps to increase profitability, drive direct bookings, centralize operations, and enable operators to engage guests with a personalized experience. For over 40 years Maestro's Diamond Plus Service has provided unparalleled 24/7 North American based support and education services to keep hospitality groups operational and productive. Click here for more information on Maestro. Click here to get your free PMS Buying guide.
Contact:
Maestro PMS
Macarena Lorenzini
65 Allstate Parkway, Suite 100
Markham, ON L3R 9X1
Canada
Toll Free: 1-888-667-8488
Email: info@maestropms.com
www.maestropms.com