Maestro PMS developed a guest loyalty system that automates the point tracking and reward redemption guests value and that simplifies guest recognition at every touch point.
The Inn at Harbor Shores is a luxury independent resort in St. Joseph, Mich. "Whirlpool's corporate offices are near our hotel. So are a large number of chain business properties. We have a desirable luxury hotel so we geared our Maestro Loyalty Program to make staying here attractive for corporate travelers," said Brady Cohen, general manager at The Inn at Harbor Shores. "It works. Our Maestro property software lets Inn at Harbor Shores loyalty member guests create a $100 reward credit for every 15 stays. Our corporate frequent-stay travelers are now loyal to us. Many use their loyalty awards credit to entertain guests or apply it to play golf at our Jack Nicklaus Signature course. It is all automated in Maestro PMS."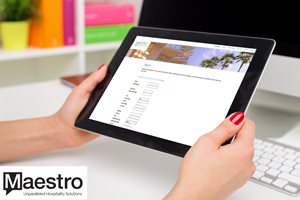 "Many of our destination resort clients with multiple properties leverage Maestro's Loyalty Module points to reward guests who stay at their different resorts," said Warren Dehan, Maestro PMS president. "This lets the guest accumulate points as they vary their leisure experience within the resort group. Guests also benefit from a personalized high-touch stay because our Loyalty Module is integrated with Maestro's booking engine and property software, so staff can anticipate and deliver amenity preferences guests previously requested." Dehan noted that Loyalty members access their account online to add preferences, verify their reward point totals, and book through special loyalty member only promotions.
"Maestro's Loyalty System is at the heart of the 'EveryStay Rewards' program at Rodd Hotels & Resorts' seven properties," said Mike Robertson, Rodd Resorts marketing manager. "Our leisure visitors accumulate and redeem EveryStay points to extend their stay or have a free round of golf. They may also redeem points for accommodations, food and beverage selections, spa appointments, or for gift cards at over 50 different retailers. Many of our frequent-stay business guests accumulate their Rewards points to have a family vacation later in the year."
Guests sign up for Rodd Resorts EveryStay membership online or on property. "Guests can review their points online, or Maestro PMS automatically prints point balances on EveryStay Rewards members folio at check-out. The system brings Rodd more business from our loyal guests," Robertson said.
Maestro developed a highly flexible Loyalty System so independent operators may create loyalty point rewards that appeal to a specific guest mix. Reward points can be triggered by dollars spent, nights stayed, reservations booked or other criteria. Maestro automatically tracks user-defined points based purchase posting codes or other property configurable criteria. Maestro Loyalty can be implemented with a magstripe membership card or a simple guest ID number, providing complete flexibility to meet each property's individual loyalty program needs.