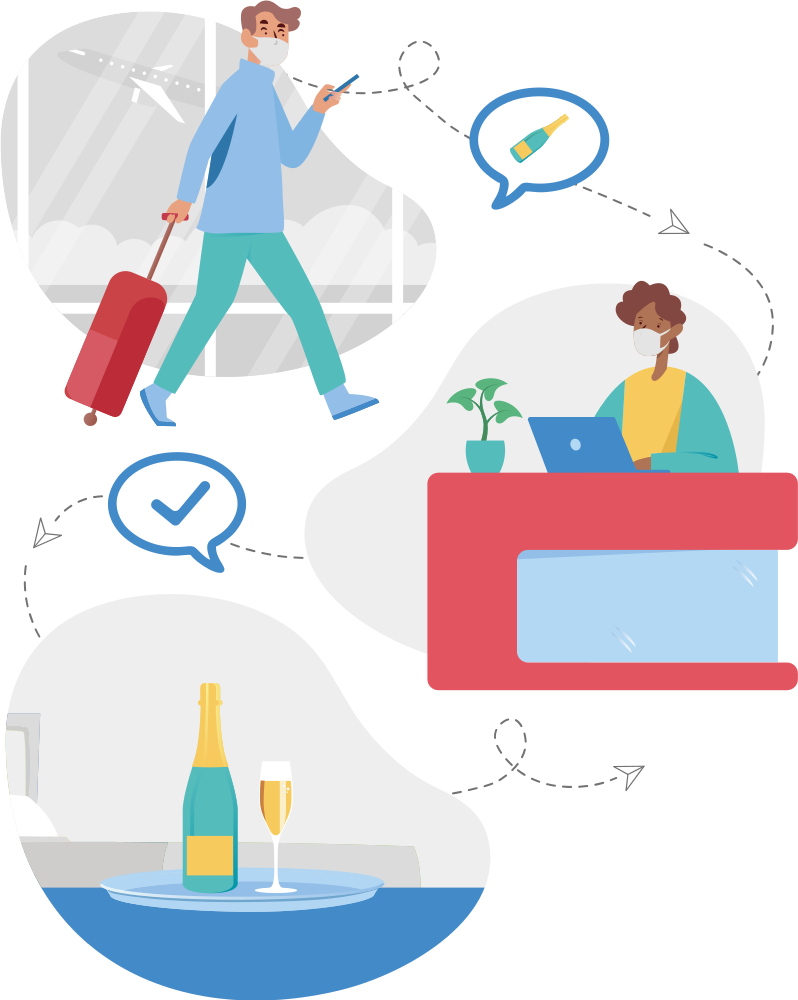 MARKHAM, Ontario, May 17, 2021 — Following the impact of the pandemic, hotel guest service and communication is more virtual than ever. The new integration partnership between Maestro PMS and HelloShift brings their mutual clients a Guest Messaging Solution that is simple and intuitive for staff and guests to use. In addition, because HelloShift's unique messaging platform includes comprehensive hotel operations software, no guest request slips through the cracks.
Warren Dehan, Maestro PMS President says "We are excited and delighted to partner with HelloShift to provide an excellent Guest Messaging and Staff Collaboration solution. We appreciate HelloShift's shared values for superior technology and unparalleled support."
Maestro PMS client Knob Hill Inn Sun Valley is a top-rated Columbia Hospitality managed property known for providing a high level of personalized service. Alexandria Barnhardt, the General Manager of Knob Hill Inn says "We really get to know our guests. And now, with the pandemic, instead of just chatting with guests, we also use HelloShift to communicate through texting."
"We have really meaningful conversations with guests and provide a high level of service in HelloShift" says Ms. Barnhardt. "We get to know our guests and make their stay special while maintaining distancing" she says. HelloShift Guest Messaging helps Knob Hill Inn quickly adapt to changing conditions while consistently delivering individualized, top-rated guest experiences. For example, complimentary breakfast is a top feature for Knob Hill Inn guests. With pandemic-related dining room closures, guests were able to text their orders for in-room breakfast.
HelloShift Guest Messaging does the heavy lifting for texting with guests and seamlessly integrates with Maestro PMS, pulling in guest data routinely. Automated messages are sent to guests at key touchpoints in the Guest Lifecycle – before check-in, when the guest is on-site, and after checkout. These messages are like throwing a guest a lifeline. When guests need assistance all they need to do is hit reply to the text thread on their phone. And because Knob Hill Inn also uses HelloShift's Staff Collaboration, it's easy for the Front Desk staff to work together to deliver on guest requests across shifts. "We love how everything is all together in one easy app" Ms. Barnhardt says.
"It's been so easy!" Ms. Barnhardt continued. "Getting started was simple. And with normal turnover we haven't had any trouble getting new staff up to speed." With HelloShift's intuitive, familiar interface, new staff instantly start using the app. The GM is able to monitor all conversations and jump in when any issues arise. Everyone is on the same page.
HelloShift offers hoteliers who use Maestro PMS a hand-in-glove Guest Messaging and Staff Collaboration experience. HelloShift CEO Sudheer says "HelloShift is helping hotels transition to a digital hotel. This involves automating all processes. The collection of open APIs offered by Maestro go a long way in achieving this vision."
About Maestro PMS
Maestro is the preferred cloud and on-premises PMS solution for independent hotels, luxury resorts, conference centers, vacation rentals, and multi-property groups. Maestro's PCI certified and EMV ready enterprise system offers 20+ integrated modules on a single database including web and mobile apps to increase profitability, drive direct bookings, centralize operations, and enable operators to engage guests with a personalized experience. For over 40 years Maestro's Diamond Plus Service has provided unparalleled 24/7 North American based support and education services to keep hospitality groups operational and productive. Click here for more information on Maestro. Click here to get your free PMS Buying guide.
Contact:
Maestro PMS
Macarena Lorenzini
65 Allstate Parkway, Suite 100
Markham, ON L3R 9X1
Canada
Toll Free: 1-888-667-8488
Email: info@maestropms.com
www.maestropms.com