To support its clients in preparation for reopening, Maestro is offering training promo packages for its recent Version 5.5 Browser & Windows property-management system for cloud, on-premises, or private cloud; Participating hotels receive a FREE cont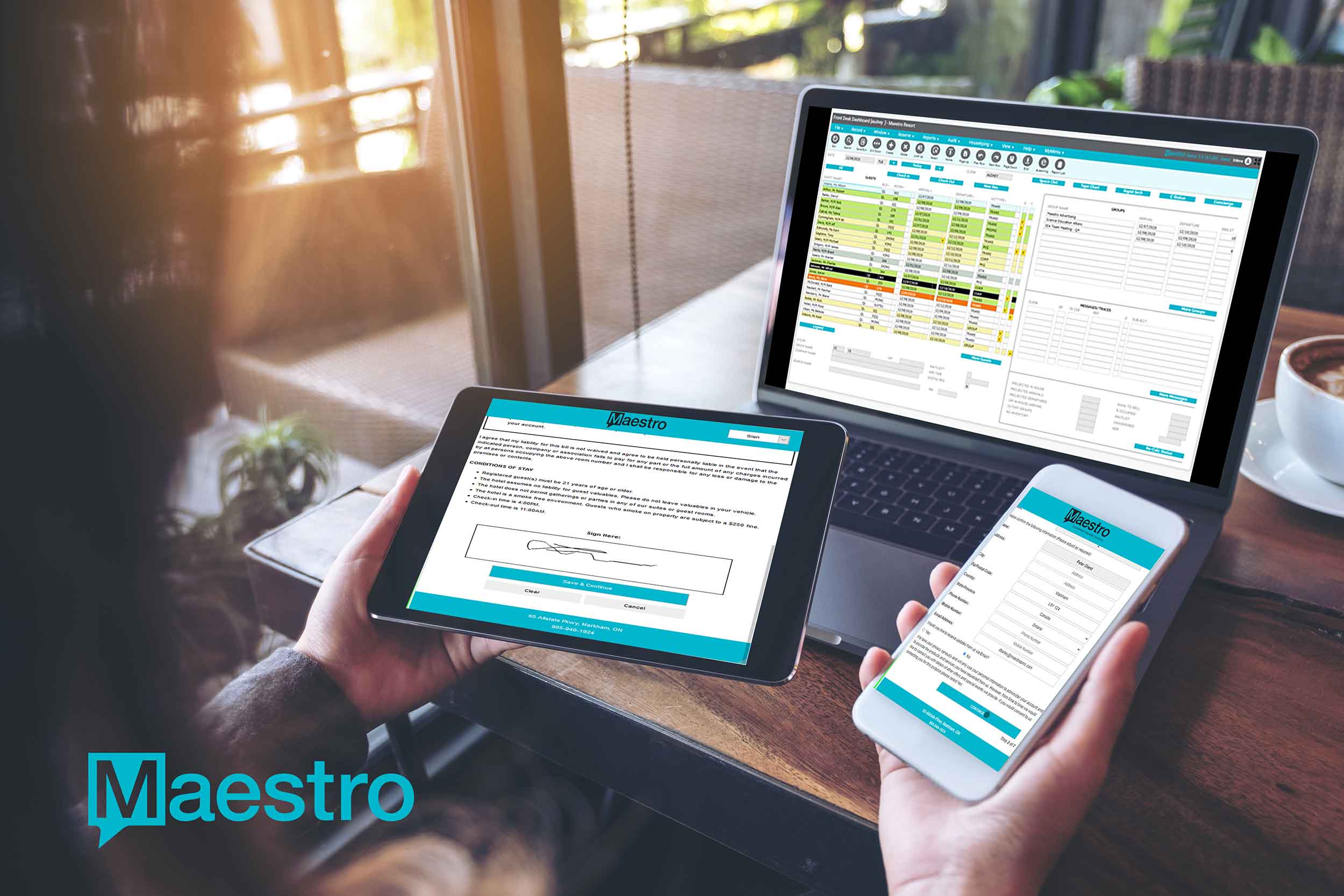 Markham, Ontario — To help its clients better navigate the new normal, Maestro has embarked on a training initiative that is helping hoteliers adapt to change and meet the demands of today's vigilant travelers. The provider of cloud and on premises property-management systems to independent and luxury resorts, conference centers, vacation rentals, and multi-property groups is offering a Training Services Package that gives Maestro users the opportunity to experience the full power of its Browser and Windows Version 5.5 PMS that rolled out across its portfolio in 2020.
Maestro Version 5.5 features the latest mobile and contactless software tools and offers security enhancements to better manage the challenges Maestro users are facing entering the new year. The enhanced solution includes:
A curbside check-in tool utilizing mobile tablet devices to streamline registration and socially distance staff from guests, and guests from each other;
A web/mobile/kiosk/iPad self-check-in module with mobile key integration, express mobile check-out, digital registration card with signature capture, mobile spa provider schedule, mobile intake and waiver forms, and eSignature document management to limit staff interaction with guests and remove high-touch physical documents;

A mobile housekeeping app that protects staff by controlling the availability of rooms and setting a configurable 48-hour time gap between the time a guest departs and the next guest arrives;

Mobile payment integration;
Mobile task management; and
A Guest Engagement Measurement (GEM) tool that provides access to relevant guest feedback, intelligence, and insights to encourage operational excellence, meaningful differentiation, and a sustainable competitive advantage.
"Daily we are seeing more and more hotels sign up for this exciting reassurance project," said Wendy Paul, Maestro Training Services Manager. "Today 100% of our portfolio is using Maestro Version 5.5, and it's packed with a lot of robust tools that operators have not experienced before. No feature should be overlooked; each is vital to the operational success of hotels today. As properties continue to prepare for travel to return to pre-COVID-19 demand — and as many of our healthy clients begin adding properties to their portfolios — this barrier-free, remote training initiative will equip hoteliers with everything needed to be competitive, meet the contactless demands of travelers, and emerge stronger than before."
Training Incentives
To ensure that everyone is leveraging V5.5 to its fullest, Maestro is offering one free contactless mobile tool for one property when one day of training is purchased by the hotel. Operators wanting more training can buy a two-day package and receive a complimentary audit of their front desk configuration to maximize productivity or they can add a third day of training at no cost. Those seeking three days of training will receive the complimentary audit, plus the free contactless mobile tool and a 4th day of training at no cost. Maestro users can choose from one of the following free contactless mobile tools, with installation and set-up included: Digital Signature Capture Reg Card, WebPro Pre-Check In, Mobile Housekeeping, or Express Mobile Check Out.
"Most of our clients are opting for the two-day online training package and choosing a free contactless mobile tool," Paul said. "Each of the four offerings are proving to be attractive incentives, as more and more of our clients know and understand the importance that contactless technology brings to their hotels today. Based on the popularity of this program, we are considering extending it for another 30 days."
Maestro President Warren Dehan said that providing re-opening assistance to Maestro clients is the company's top priority. The goal through this training initiative, he said, is three-fold: "First, we want to see if our clients are optimizing Maestro to its fullest potential (which modules and/or features are they using successfully, and which do they need more orientation on and best practices recommendations)," Dehan said. "Second, we want to make sure that hoteliers are aware of the many powerful mobile and contactless add-ons available through Maestro that support the services that today's travelers are demanding. Third, we want to use the training forum as an opportunity to continue the dialogue with our clients and learn what else we can do to better support them through reopening and beyond. Some operators have questions about onboarding new employees while others want to learn more about mobile payment integration or mobile housekeeping that protects staff by reducing contact with others. Some want options to transition to our full Web browser version of Maestro and host in the cloud. No matter what their questions are, we want to give everyone the reassurances they need that Maestro is here for them today and with them for the future."
About Maestro PMS
Maestro is the preferred cloud and on-premises PMS solution for independent hotels, luxury resorts, conference centers, vacation rentals, and multi-property groups. Maestro's PCI certified and EMV ready enterprise system offers 20+ integrated modules on a single database including web and mobile apps to increase profitability, drive direct bookings, centralize operations, and enable operators to engage guests with a personalized experience. For over 40 years Maestro's Diamond Plus Service has provided unparalleled 24/7 North American based support and education services to keep hospitality groups operational and productive. Click here for more information on Maestro. Click here to get your free PMS Buying guide.
Contact:
Maestro PMS
Macarena Lorenzini
65 Allstate Parkway, Suite 100
Markham, ON L3R 9X1
Canada
Toll Free: 1-888-667-8488
Email: info@maestropms.com
www.maestropms.com