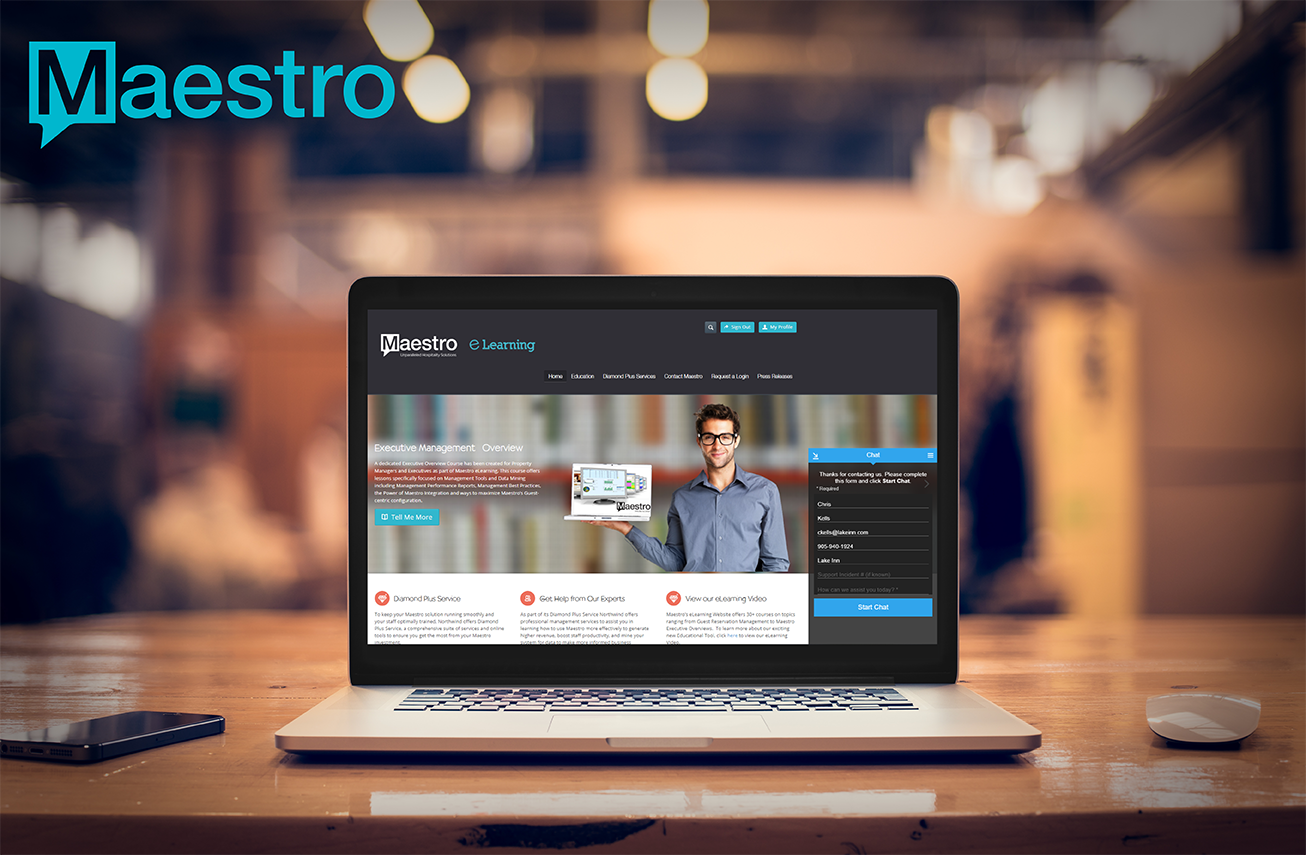 Maestro's Support Team is the most professional I have found in any system provider
February 19, 2019 – Maestro PMS, the preferred cloud and on-premise hotel software solution suite for independent hotels, luxury resorts, conference centers, and multi-property groups announced the launch of Live Chat Support. The newest addition to the Diamond Plus Service program instantly connects staff with Maestro's support specialists for help in any area of the system without leaving their screen or picking up a phone. Live Chat Support was introduced in conjunction with the latest Maestro PMS Version 5.5, offered in both a Windows and Web Browser based solution.
Maestro's Live Chat Support lets users stay on task without interrupting guest service. The system includes screen capture and sharing functionality and automatically opens a support ticket for each communication. Chat session transcripts are also provided after each resolution. This newest channel for support services is being adopted by Maestro clients quickly, and is becoming the choice of communication for immediate assistance. As part of ongoing education to ensure users are productive, users can also be quickly directed to the Maestro eLearning website for user reference guides, pre-recorded webinars, self-guided tutorials, or to register for live webinars. They can even request on-demand training to ensure property teams develop confidence using Maestro.
"Maestro's Live Chat Support is perfect for our property because we are a new hotel and our team is still learning the system. It is great for fast answers to functionality questions without interrupting guest service," said Boris Bozic, former Front Office Manager for The Josie, A Noble House Hotel. "Maestro Chat was a huge help in getting us up and running. Many of our team members are new to hospitality and they were able to get answers instantly without leaving the desk. Maestro's Support team is the most professional I have found from any system provider."
Live Chat Support enables hotel staff to start a chat session with Maestro's support team from anywhere within the software application. Live Chat is part of Maestro's expanding Diamond Plus Service program that already includes Lifetime Version Upgrades and Enhancements, 24/7 North American based call center support, On-Demand One-on-One Live Training, Built-In system Self-Help Tutorials and Reference Guides, an entire eLearning Center including Live Webcasts, Videos, and Self- guided Tutorials for faster system proficiency and ultimate staff productivity; all included in the standard annual subscription fee.
Warren Dehan, Maestro PMS President, said, "We are continuously evolving our systems to surpass industry expectations. Live Chat makes support instant and easily accessible by providing our users with a familiar communications channel to interact with Maestro's support team. Our entire support team has vast hotel operations experience. Offering Live Chat to our clients lets our team work together maintaining service integrity at all levels with our client's success being the ultimate goal."
The Maestro Property Management System delivers flexible and scalable deployment options with an identical full-featured web browser or windows solution available in the cloud or on premise. Maestro's revenue-generating hotel management software tools and services increase profitability, drive direct bookings, centralize operations and provide personalized and mobile guest service tools to enhance the guest experience. Click here for more information on how to engage and socialize with Maestro PMS.