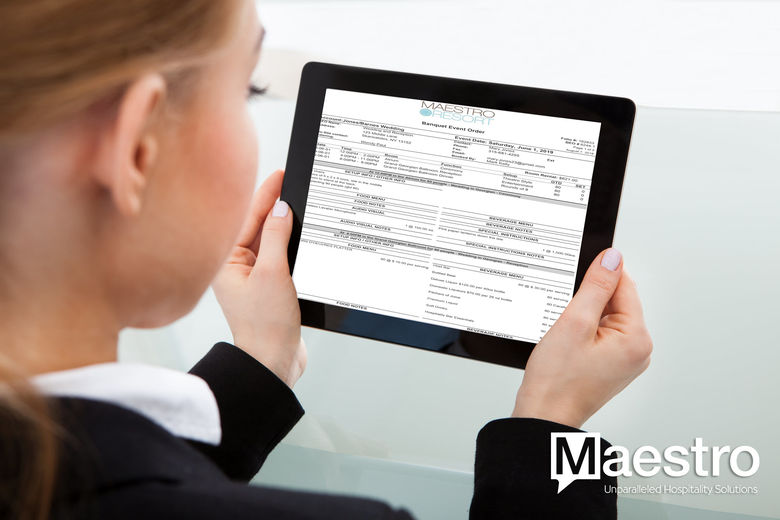 Sales and Catering Development Roadmap: Personalized Group Interaction, Event Analysis, and Room Diagramming Strengthen Event Operations
Markham, Ontario – Group event operations is the number two profit center for many properties, so automating Sales and Catering processes with a strong system that increases staff productivity and supports a smooth-running operation is essential. Maestro's fully-integrated Sales and Catering system is used by hundreds of full-service hotels and conference centers. Now, Maestro is announcing its Sales and Catering development roadmap that outlines a suite of new functionality that takes group sales and event management to the next level.
"Maestro's Sales and Catering module is already a robust, widely installed solution. We worked with our users to add enhanced functionality to support more complex Sales and Catering operations," said Maestro PMS President Warren Dehan. "We strengthened our system with the newest mobile and cloud-based technology, e-Signature capture, room diagramming, online group member management, event amenity requirements, CRM capabilities, and more." Dehan noted that Maestro's new e-Signature capability helps operators close more business by letting clients execute digital contracts remotely to save time.
Similar Stories
By virtue of being a directly integrated solution, the strengths of Maestro's Sales & Catering module include aspects not available in interfaced solutions, including features such as:
Single Guest Itinerary that includes group activities and meetings
Revenue Management Strategies can be pushed from Front Desk
Recognize payments and other postings in Sales & Catering made to the group master
Fully automated Group Resume' showing a comprehensive picture of guest rooms and F&B to the guest or group
Send, receive and manage traces across modules
Consistent look and feel of PMS and S&C to reduce training.
Maestro Sales and Catering property software is fully integrated with Maestro's Front Office System on one single-image database that reduces group folio rekeying and simplifies accounting. The system is accessible via Windows or Web Browser deployable as part of the integrated PMS solution either on-premise or hosted in the cloud. The Sales and Catering system may also be used with tablets and mobile devices for greater flexibility. Maestro's Sales and Catering property software development roadmap includes:
Enhanced online group member booking functionality
Event space and meeting room layout diagramming options
Meeting/event amenity requirements and tracking
Audio visual equipment specification tracking
Event CRM capability for more personalized client-sales team engagement
Maestro Analytics integration to mine event data for Sales and Catering event analysis
Group landing pages that provide detailed event information for members
"We are also working with a solution partner to expand Maestro's Sales and Catering event space diagramming capability in the future," Dehan said. "This is not a wholesale shift in our system. It is a series of property software refinements that make it easier for operators to manage all aspects of meeting and conference planning, scheduling, and to simplify event operations."
The Maestro Property Management System delivers flexible and scalable deployment options with an identical full-featured web browser or windows solution available in the cloud or on premise. Maestro's revenue-generating hotel management software tools and services increase profitability, drive direct bookings, centralize operations, and provide personalized and mobile guest service tools to enhance the guest experience. Click here for more information on how to engage and socialize with Maestro PMS.
About Maestro PMS
Maestro is the preferred cloud and on-premises PMS solution for independent hotels, luxury resorts, conference centers, vacation rentals, and multi-property groups. Maestro's PCI certified and EMV ready enterprise system offers 20+ integrated modules on a single database including web and mobile apps to increase profitability, drive direct bookings, centralize operations, and enable operators to engage guests with a personalized experience. For over 40 years Maestro's Diamond Plus Service has provided unparalleled 24/7 North American based support and education services to keep hospitality groups operational and productive. Click here for more information on Maestro.
Contact
Macarena Lorenzini
Phone: 1-888-667-8488
Send Email