Attend Maestro's 'Power to Choose' Virtual Exhibitor Tutorial and learn if Cloud-Hosted, On-Premise, Self-Hosted or Private-Cloud PMS is right for you; Online event to be held Thursday, Oct. 29, at 1:00 p.m.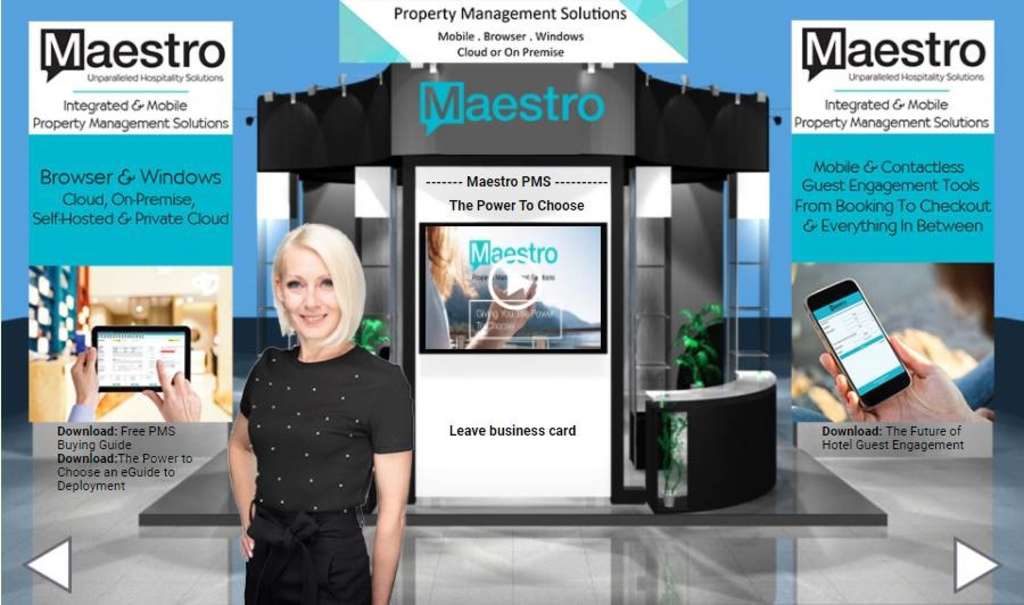 MARKHAM, Ontario – For the first time, global hoteliers will come together virtually on Tuesday to attend CYBER HITEC, an online hospitality technology conference featuring the brightest minds and hottest hotel technologies from around the world. To show trepidatious travelers that their hotels are safe, operators are realizing there needs to be change, and the urgent transformation of contactless service begins with technology. Maestro, hospitality's most trusted provider of property-management systems for independent and luxury resorts, conference centers, vacation rentals, and multi-property groups, is leading this change revolution by giving hoteliers complete autonomy and power of choice in their PMS platform deployment — all options supporting mobile and contactless guest engagement from booking to check out and everything in between.
"In these uncertain times every penny counts, and hoteliers should not be misled into thinking that in order to gain a mobile browser-based system with the latest technologies, their PMS must be hosted in the cloud," said Warren Dehan, Maestro President. "On the contrary, there are many ways to deploy a web-based hotel PMS, and ALL platforms have their advantages dependent on the operations' needs."
"We are participating in CYBER HITEC this week to show independent operators that they can enhance the digital guest experience, support personalized and mobile check-in, deploy contact free technologies, and secure hotel/guest data whether they choose a cloud-hosted, self-hosted, private cloud or on-premise solution from Maestro PMS," he said. "ALL leverage the latest mobile, contactless and web-based technologies while ultimately giving you the power to choose your environment. A hotel can do anything on premise or self-hosted that it can do in the cloud — they just need the right platform. We hope CYBER HITEC participants will visit our team virtually at the Maestro CYBER HITEC booth to learn more about the flexibility and depth of our deployment options."

Flexible PMS Deployment Options
Regardless of the hosting platform, hoteliers can back up data onsite — and independently in the cloud if desired — and support contactless and mobile capabilities, along with integration to third-party cloud services. Whether the server is in the cloud, in a private cloud, a managed data center, or in the hotel's IT room, as long as it has a connection to the Internet (generally firewall secured between an internal and external network) it can support a web browser based PMS with touch free, contactless, mobile, and third-party technologies.
Consider these real-world client deployment scenarios of the Maestro multi-property PMS featuring guest profile centralization and central and cross booking capabilities:
A group of 10 oceanfront, family-operated independent hotels representing 794 rooms in Myrtle Beach, S.C., chose to deploy the Maestro multi-property Windows and Web Browser PMS in tandem in a self-hosted environment because they have the infrastructure to support and maintain the system internally and they preferred to be responsible for their own network and security. Within this self-hosted environment, data is hosted on a centralized corporate server. It enables the operator to manage its own infrastructure as needed while utilizing one call center for all properties to simplify cross-selling and group booking and provides access to a networked single-image database supporting personalized guest service, centralized loyalty management and corporate data mining. These properties are benefitting from Maestro's Front Office & A/R, Sales & Catering, Owner Management + Online Portal, Maestro Analytics, Work Order, Travel Agency, and Yield Management modules, along with the addition of mobile and contactless tools.
A luxury hotel and resort company operating five properties in Nantucket, Mass., chose to deploy the Maestro multi-property PMS on-premise. Because these properties are in more remote areas, Internet connectivity can be spotty. By managing their PMS and required network connections internally, they can ensure strong connectivity for guests at an affordable price. For this hotel company, data is stored on a single server within their network. An on-premise platform is a hybrid of sorts — it works in both Windows and Web-browser environments. Initially, the group installed the standard Windows version of Maestro, but have since migrated to a Web-browser solution that uses local servers to manage user access. Equipment maintenance, data security, system upgrades, and integration to peripheral property technologies are managed and/or performed by the property's IT department. These hotels are utilizing Maestro's Analytics, Accounts Receivable, Club and Spa Activities, Front Desk, Gift Cards, GEM, Maestro Web, Sales & Catering, Travel Agency, Work Order, and Yield Management modules.
An attractions and hospitality company providing lodging experiences at 25 luxury hotels across four time zones in Alaska, Washington, and Canada chose the Web browser private-cloud platform for Maestro multi-property PMS deployment because it removes any responsibility and overhead for maintaining PMS hardware and operating systems while properties receive the Windows licensing and upgrades that go along with using their own local equipment. All equipment and licensing is owned by a third party, but Maestro manages the installation and keeps the software running. The hotel company operates Maestro while the third-party takes care of all network support and equipment maintenance. The hotels are leveraging Maestro's Alternate Inventory, Front Office, Analytics, Yield Management, Gift Card, Travel Agency, Tablet Housekeeping, Work Order, Sales and Catering, and Digital Signature modules.
A vacation ownership group with a collection of seven hotels and resorts in Fort Myers Beach, Naples, and The Everglades, Florida, selected a cloud-based platform to host the Maestro multi-property PMS because they already had PCs onsite and didn't need the added cost to support corporate servers or their own databases. The hotel company's cloud-hosted PMS features browser-only access deployed in a non-multi-tenanted cloud-hosted environment. It gave the hotel company more control over its PMS implementation and upgrade choices. Here hotel and guest data reside off-site and can be securely accessed by staff remotely using a computer or mobile device. Each property can integrate to third-party property technologies via Web standards and application programming interfaces (APIs). These properties are operating with Maestro's Analytics, Front Desk, SMS Messaging, Tablet Housekeeping, Work Order, Owner Management, and Yield Management modules.
"As you can see from these real-world use cases, a one-size-fits-all or cloud-first mentality isn't right for everyone," Dehan said. "Considering the state of the economy, this is not the time to be incurring additional expenses just to accept imposed deployment options. Operators must work with a PMS partner that gives them options in deployment … offers the latest innovations … secures their investment with included upgrades and services … and who's offering ultimately meets the property or hotel company's business objectives."
"As people come to CYBER HITEC to shop for a new PMS with in-demand touchless integration tools, they must not overlook the company's customer-service capabilities," he said. "Look for a provider that offers responsive 24/7 call center support; free version upgrades; on demand live one-on-one training; in application live chat and direct email support, an online e-learning center, complimentary live webinars; and professional productivity audits to maximize your investment."
CYBER HITEC Exhibitor Tutorial

To learn even more about the PMS deployment options from Maestro, plan to attend Maestro's Exhibitor Tutorial Session at CYBER HITEC on Thursday, Oct. 29 at 1:00 p.m. For more information on this and other CYBER HITEC sessions, click here.
Regardless of which implementation model a hotel chooses to support its business objectives today, Dehan said it's imperative that hoteliers be able to switch to a different option tomorrow without going to market for a new system provider and incurring additional licensing fees. Migrating from on premise to cloud hosted or vice versa should be a painless transition with the right PMS partner. The takeaway is to choose a deployment option that provides a sophisticated solution with the right feature set and the latest innovations to keep hoteliers competitive plus the freedom to move to a new environment as future business demands dictate.
To learn more about the various platform deployment options from Maestro PMS, register for CYBER HITEC here. For more information on Maestro PMS, visit maestropms.com.
The Maestro Property Management System delivers flexible and scalable deployment options with an identical full-featured web browser or windows solution available which is hosted in the cloud or on premise to offer the best of both worlds. Maestro's hotel management software applications and services centralize operations and provide personalized and touchless mobile guest service tools to enhance the guest experience while also supporting a more secure stay. In addition to implementing Maestro's flexible PMS platform and multiple modules, the resort will also use Maestro's Condo Owner Management to offer owners secure online access to their statements, reservation activity, and to book their own units.
About Maestro PMS
Maestro is the preferred cloud and on-premises PMS solution for independent hotels, luxury resorts, conference centers, vacation rentals, and multi-property groups. Maestro's PCI certified and EMV ready enterprise system offers 20+ integrated modules on a single database including web and mobile apps to increase profitability, drive direct bookings, centralize operations, and enable operators to engage guests with a personalized experience. For over 40 years Maestro's Diamond Plus Service has provided unparalleled 24/7 North American based support and education services to keep hospitality groups operational and productive. Click here for more information on Maestro. Click here to get your free PMS Buying guide.
Contact:
Maestro PMS
Macarena Lorenzini
65 Allstate Parkway, Suite 100
Markham, ON L3R 9X1
Canada
Toll Free: 1-888-667-8488
Email: info@maestropms.com
www.maestropms.com