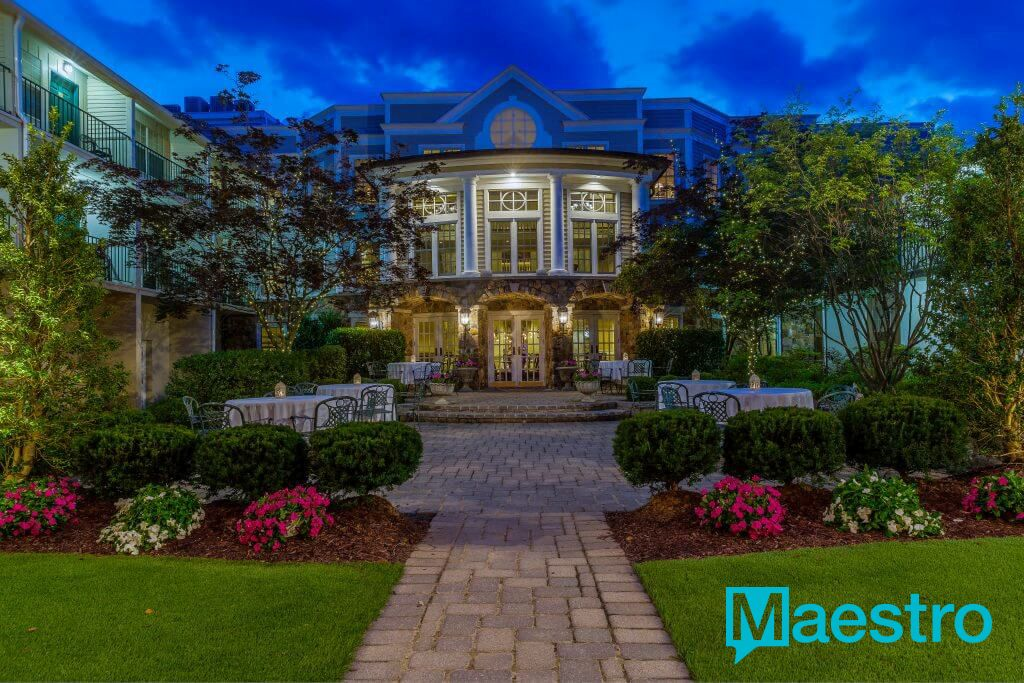 The Olde Mill Inn was voted "Best of Weddings" by The Knot from 2007 to 2019 and Maestro PMS is Part of the Wedding Party
September 4, 2019 – The Olde Mill Inn in Basking Ridge, New Jersey embraces couples with two fairy-tale wedding venues on a landscaped 10-acre estate. In addition to more than 240 weddings per year, the property also works with numerous corporations and hosts approximately 1,200 social and corporate events annually. The Olde Mill Inn runs a high-volume property seven days a week. "Maestro PMS handles everything from fast, smooth check-ins to group rooming lists for our brides, and also delivers post-event Analytics. Maestro lets our team provide a high-touch guest experience for wedding parties and corporate travelers alike," said Norman Martin, Assistant General Manager for the Olde Mill Inn and the Grain House.
Maestro PMS hotel software automates the 102-room Olde Mill Inn and its Grain House Restaurant as separate entities on one system. "The Maestro Support team made our operation much easier to manage by creating two corporate entities for our property," Martin said. "Maestro is the easiest hotel software system I have used, and the Maestro support team is the best I have experienced. The system keeps our 24/7 events on track, with excellent group rooming list pick-up tracking, event scheduling and custom reporting.
Service is an important part of any hospitality business, more so for high-volume wedding venues where everything has to be perfect 240 times a year. "Olde Mill's guest-focused personal service is one reason we are known for delivering an award-winning wedding experience. Maestro shares our emphasis on service and is always there if we need their help," Martin said. "Maestro's support is excellent. We recently upgraded to the latest version. Maestro does not charge for version upgrades, and their team helped us learn all the new features to keep our operation running smoothly."
Making good business decisions is just as important in the hotel business as in any other successful operation. "Maestro's Analytics Business Intelligence module helps us analyze our property and event performance and staff productivity," Martin said. "First thing every morning, I review our rate and pick-up reports to identify trends and keep the Olde Mill successful. Everything I need to know is in Maestro's reports. The system lets me manage our property based on real-time data to make better business decisions."
Olde Mill Inn was recognized by WeddingWire.com as "Couple's Choice" among top local wedding professionals for 2011-2019 and received both the New Jersey Bride "Love It" Award and the Manhattan Bride Magazine "Best Of" Award for 2012-2019. The Olde Mill Inn was also voted Knot "Best of Weddings" and a member of the "Knot Hall of Fame" 2007 to 2019. The property offers a historic setting in an 18th century Grain House for intimate weddings. The Grand Washington Ballroom in the Olde Mill Inn features a classically beautiful reception space for large, more elaborate weddings.
The Maestro Property Management System is the preferred hotel software for independent hotels, resorts, conference centers and multi-property groups. It delivers flexible and scalable deployment options with an identical full-featured web browser or windows solution available in the cloud or on premise. Click here for more information on how to engage and socialize with Maestro PMS.