Multi-property condo hotel and resort operator digitizes the guest journey with strategic integrations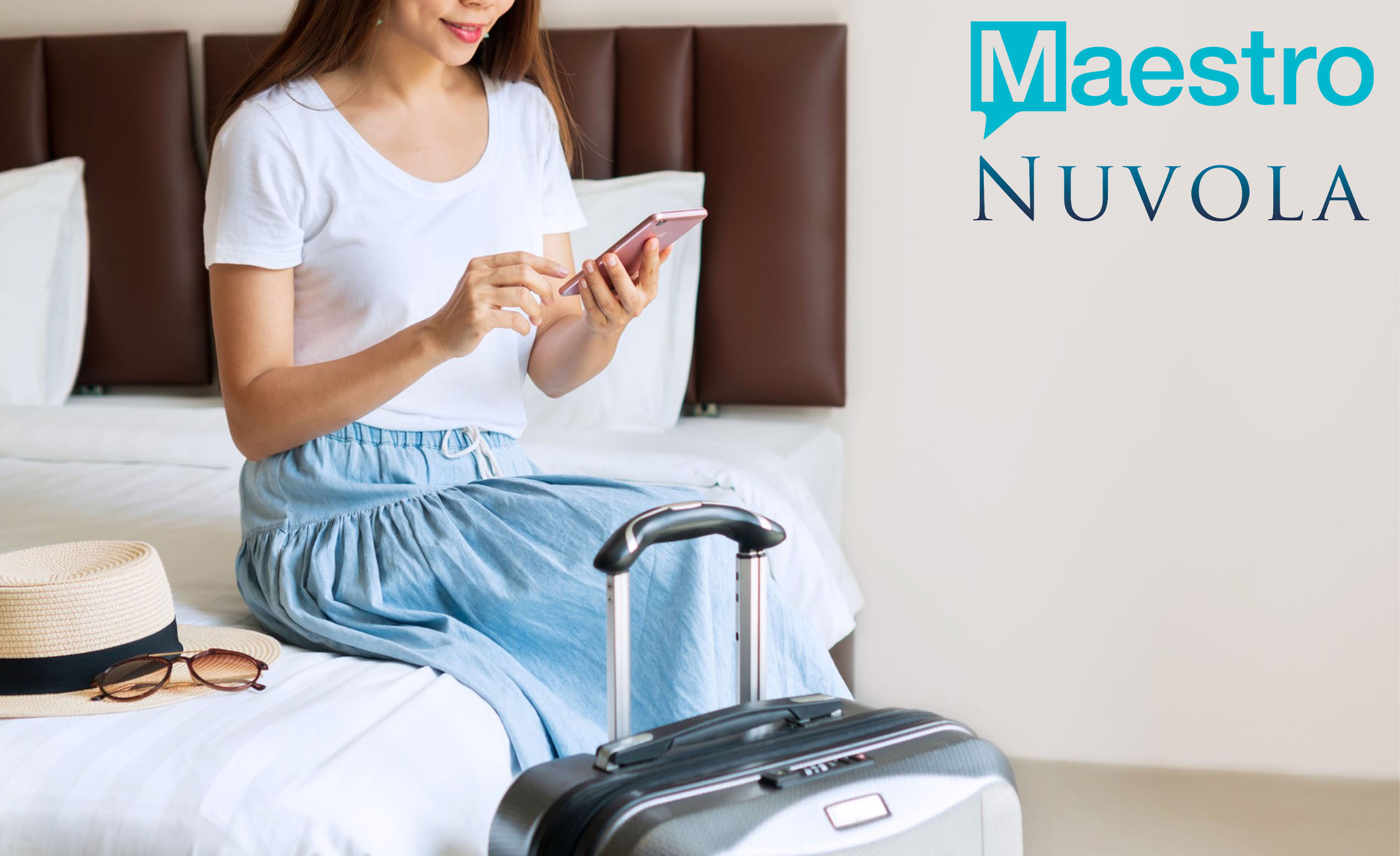 Recognizing the role technology is able to play within the current state of contactless needs and staffing shortages across the hospitality industry, Paramount Hospitality Management™ (PHM) has announced their partnership with Nuvola and Maestro PMS to integrate the tech providers' communication tools via open application programming interfaces (APIs). Paramount Hospitality Management has enlisted the joint solution services across four of its hotels within their current portfolio with plans for future hotel and resort integrations.
"We're excited to bring this level of technology to our properties to allow our team members to quickly keep up with guest requests, to keep our operations running as efficiently as possible, while also enjoying the benefits of being able to effectively communicate with our guests through mobile technology. Guest satisfaction has always been a top priority for us, and the use of these tools will help us further capture that satisfaction from our guests that enjoy a solid mobile user experience. Based on the success of the integration in a portion of our portfolio, PHM is now considering expanding Nuvola into our newest property, The Grove Resort & Water Park Orlando," said Marco Manzie, Founder and President of Paramount Hospitality Management
Avanti Palms Resort and Conference Center, Avanti International Resort, Floridays Resort Orlando, and The Point Hotel & Suites are the first four properties to begin utilizing Nuvola's Events for service request management, Pass-On Logbooks, Lost & Found, Housekeeping Productivity, and Guest Chat (SMS Texting) combined with Maestro's browser-based solutions hosted in Paramount's private cloud services. Maestro operations modules including: Multi-Property Centralized Front Desk, Condo Owner Management Alternate Inventory, Analytics, Guest ID Card, Loyalty, SMS Messaging, Travel Agency, Mobile Housekeeping, Work Order, and Yield Management are all in place as part of the total solution.
The joint integration enables each resort and condo hotel to access guest profiles, pulled together from one centralized system, from reservation to check-in/-out procedures to specific requests or questions during each stay. Welcome, farewell, and onsite offerings or updated health and safety protocols can all be automated to send to each guest via SMS Text.
"The integration partnership between Maestro PMS and Nuvola has been unlocking hidden opportunities for a variety of hotels and guests over the years," said Warren Dehan, President of Maestro. "As a condo hotel and resort management group, Paramount Hospitality is especially seeing benefits from our joint solution, as staff at these Orlando properties work diligently to keep up with demand despite the challenging labor shortage. Together, Maestro and Nuvola are enabling teams at these properties to keep up with guest requests, turning rooms over quickly, and process maintenance work orders until issues are resolved. Not only is Maestro a proud integration partner of Nuvola, but we are thrilled to be supporting multi-property needs of Paramount's condo owners and guests. We look forward to bringing the benefits of this joint solution to even more properties managed by Paramount soon."
Most importantly, text-based communications cut down on time spent communicating with guests or hotel associates. Text-based communications tend to provide more accuracy in less time than direct conversation, and for associates it provides a clear chain of accountability. This is critical if hotels want to meet their goal of providing a high-quality guest experience with fewer employees.
Leveraging the integrated solutions, each property is now able to track and automate programs such as maintenance, housekeeping, and guest fulfillment. Automation capabilities work to alleviate staffing challenges currently felt throughout the hospitality industry by providing digital assistance. The two solutions work together as one platform to effortlessly track and update tasks in real-time, empowering staff to work efficiently and effectively while simultaneously enabling management to have an accurate
overview of workflow.
"Our collaboration with Maestro PMS provides a hospitality-specific two-way solution that addresses current industry pain points," said Juan Carlos Abello, CEO and Founder of Nuvola. "We are thrilled to work alongside industry leaders such as Paramount Hospitality Management. We look forward to continuing our results-driven partnership with both Maestro PMS and Paramount Hospitality Management."
Paramount Hospitality Management's partnership with Nuvola and Maestro PMS enables the collection's portfolio to create a personalized guest experience through contactless services while simultaneously easing and strengthening operational processes. To receive a demo or learn more about the integrated communications tool, please visit http://www.mynuvola.com or email sales@mynuvola.com.
About Nuvola
Nuvola, built by hoteliers for hoteliers, is a single destination cloud-based optimization solution delivering intuitive software to enhance every aspect of a hotel's operations including guest services, housekeeping, maintenance, green initiatives, and guest engagement. These pillars of focus on overall service optimization are strengthened through Nuvola's first-hand understanding of day-to-day hotel operations and robust reporting capabilities, keeping your staff in sync, developing accountability, and enhancing the guest journey throughout their stay. Through Nuvola's in-house innovation team and integrations with third party systems, the company is constantly evolving and exceeding the needs of hoteliers in a dynamic hospitality industry. Visit www.mynuvola.com to learn more.
About Maestro
Maestro is the preferred Web Browser based cloud and on-premises PMS solution for independent hotels, luxury resorts, conference centers, vacation rentals, and multi-property groups. Maestro's PCI certified and EMV ready enterprise system offers a Web browser version (or Windows) complete with 20+ integrated modules on a single database, including mobile and contactless apps to support a digitalized guest journey as well as staff operations. Maestro's sophisticated solutions empower operators to increase profitability, drive direct bookings, centralize operations, and engage guests with a personalized experience from booking to check out and everything in between. For over 40 years Maestro's Diamond Plus Service has provided unparalleled 24/7 North American based support and education services to keep hospitality groups productive and competitive. Click here for more information on Maestro. Click here to get your free PMS Buying guide.
Contact:
Holly Zawyer/Sara Leiter
holly@zapwater.com / sara@zapwater.com
P: 305.505.0312 / 954.254.7694
Barb Worcester/PRpro/Maestro
barbw@prproconsulting.com
P: 440.930.5770
Maestro PMS
Macarena Lorenzini
65 Allstate Parkway, Suite 100
Markham, ON L3R 9X1
Canada
Toll Free: 1-888-667-8488
Email: info@maestropms.com
www.maestropms.com